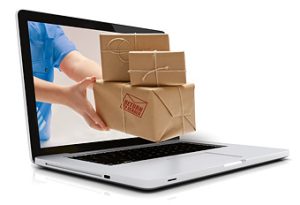 We at Cielo Aesthetics & Wellness take great pride in providing only the very best in skin care lines for our clients.  You should find the following article from New Beauty Magazine  (2018) enlightening if you're currently purchasing your "name brand" skin care online…we have further to say at the end, so please read on!
Government Report Finds Amazon and Walmart Are Selling Counterfeit Products—Including Cosmetics Containing Toxins
The internet can be a bit of a Wild West situation when it comes to purchasing beauty products. Not getting what you paid for is never a plus but, as a new report released by the U.S. Government Accountability Office this week suggests, there may be some much bigger risks involved in the road to rip-off.
According to the report, which can be read in full here, the investigators purchased a total of 47 products from third-party sellers from Amazon, Walmart, eBay, Sears Marketplace and Newegg. The items were all sold by sellers who, on average, had customer ratings above 90 percent and all were shipped from U.S. addresses. All products were also billed as "new."
Out of the 47 items, 20 proved to be counterfeit, "according to testing by the products' rights holders"—including Urban Decay cosmetics purchases (the agency bought 13 UD items in total and ALL were uncovered as counterfeit). Even more extreme, the U.S. Immigration and Customs Enforcement says that seized counterfeit cosmetics have been found to "contain hazardous substances, including cyanide, arsenic, mercury, lead, urine, and rat droppings."
"The main danger posed by counterfeit beauty products is the heightened potential to put harmful ingredients on or in your body," says Kelly McCarthy, partner at San Francisco–based Sideman & Bancroft, an intellectual property and brand protection group that works with beauty lines like Fenty Beauty and Kat Von D Beauty to protect against counterfeits. Top of Form
"Most beauty brands put significant consideration into the ingredients they use in their products and the industry is guided by safety standards set by the FDA and other organizations. Authentic products are manufactured in facilities with strict quality control. Customers are accustomed to the high-quality of a brand they love and expect that each time they refill their makeup bag, they will be getting those products. Obviously, there are no such standards for counterfeit products. Counterfeit manufacturers can, and do, use anything to make their products in the cheapest way possible. You may think you are purchasing your favorite vegan, plant-based, vitamin-enriched lipstick when, in fact, you are buying a product with heightened amounts of heavy metals or chemical elements like lead or arsenic."
McCarthy says the best advice she can give to consumers is to avoid third-party sellers or unauthorized retailers and to find out where the brands you use are sold by authorized dealers. "For example, if you know your favorite skin care line is sold on the company's own website and in a specific department store, make the effort to purchase it in those places. By doing this, you can be assured that the products are authentic. Avoid the temptation to purchase it from more convenient online locations as you have no idea how the product made it to that marketplace or where it came from in the first place. Also, if you see a 'deal' on beauty products and the sale is not happening in a store that you know is an authorized seller, you are definitely raising your risk that the product is fake. If the pricing looks too good to be true, it probably is."
Besides posing a risk to consumers, counterfeiting can be devastating to a brand's reputation. Many retailers want to avoid the sale of counterfeit products and want to work with brands to clear their marketplaces of these items—especially when health and safety issues are in play.
"A big problem is when consumers purchase counterfeit products but don't realize it," McCarthy says. "The only thing they know is they are not happy with a product's performance and then just assume that the quality of the brand is not good or has gotten worse from the last time they purchased. Those are likely customers that the bands cannot get back because they have no opportunity to educate the customer. We see this frequently in the form of feedback left on the online marketplaces. Customers will say things like 'the smell of the perfume doesn't last as long as it used to' or 'the lip gloss didn't go on smoothly and the brush is very low-quality.' In many of these cases, the customer has purchased counterfeit products and has no idea."
Spokespeople for Amazon, eBay, Walmart, Newegg and Sears Marketplace told CBS News they "have stringent procedures in place and that counterfeit products and sellers found to be selling fake items are removed from their marketplaces." A spokesperson for Amazon, specifically, shared this statement with us: "Amazon makes significant investments in innovative machine learning and automated systems in order to anticipate and stay ahead of bad actors. On an ongoing basis, Amazon's systems also automatically and continuously scan numerous data points related to sellers, products, brands, and offers to detect activity that indicates products offered might be counterfeit. Customers are always protected by our A-to-Z guarantee, whether they make a purchase from Amazon or a third-party seller. If ever the product doesn't arrive or isn't as advertised, customers can contact our customer support for a full refund of their order. We take this fight against bad actors very seriously and will not rest."
In addition, L'Oréal, parent company of Urban Decay, said in a statement: "Consumer safety is our absolute priority. Not only are counterfeit products low quality and ineffective, but they use ingredients of unknown origins which can also be potentially harmful to consumers. Led by former federal law enforcement employees, we implement a robust anti-counterfeiting program to mitigate the presence of counterfeit products on the market. Urban Decay products are available only at Urban Decay stores, UrbanDecay.com and through authorized retail partners found at UrbanDecay.com/store locator."
Incredible, isn't it?  We did some research ourselves and find that all three of our lines (Epionce, IS Clinical and Neocutis) can be found online at Amazon and other discount sales outlets.  Of note is the fact that NONE of the lines have an agreement with Amazon, etc. to sell their products!  That means that if you're purchasing those products from a third party source online, it is much more likely that you are getting product that could be counterfit or expired.  Some of these third party companies purchase large quantities of skin care that has been traded in or has expired!
Should you make a purchase of product from one of these unauthorized online sites, neither we nor the companies will be able to assist you in resolving any issues with the item(s). We recommend that if you must purchase online, that you go directly to the company to obtain your products.  For instance, In an effort to protect the brand, Epionce will ask you for a code they provide to each of their retailers (like Cielo) to ensure that you have received proper education on the products you use.  Lastly, we are happy to send you product if you're unable to get in!